So, I have been holding back on posting about this here until I was able to sort it all out with my dealer and hopefully make everything right again. I also apologize in advance for the photo heavy post...
Back in January, we purchased our brand new 2021 XL Boondock, and it did not come with the factory roof rack per the global backorder on everything. We were able to get our dealer to agree on installing the rack per Nucamp's instructions when parts were available. We were happy with their willingness to help us out here. A parts order was placed on January 15th, and the wait began. In the meantime, we were out camping and enjoying our camper like everyone else tends to do. On about March 1st or so, I get a call from the service department of our dealer saying that the parts were in hand and they wanted to set up a date for install. I was told it would be done in a few hours, and April 3rd was selected for us to drive the 5 hours to the dealer for the install. We even set up plans to camp while we were there instead of getting a hotel. No problem for us!
April 3rd comes around and we head over for our install. We drop the camper off at 8AM, and the service tech tells us to expect a call before lunch. Well, lunch comes and goes. I call over and they tell us it will be a bit, and to expect the camper to be done by their closing time of 5PM. We were put off by this, but they did seem extremely busy. It also did not help that we were ready to be out of the 100-degree heat for the day. 430PM comes and we head back to the dealer. No call had been made to us, and we wanted to see what was up. Upon arrival, we were told it was complete, and we could hook up and head out. Woo! Here is where the red flags begin to fly….
First thing I notice is they got us aero bars and not round bars. These do cost more, but they are harder to use on a curved roof like on the [email protected] I was told this was all they could order. Next, I noticed there were no lock cores or keys. I was told I had to get those as they did not order them. Again, I was bummer because the factory rack comes with lock cores and keys. That was $65 on me for a set… The dealer was closing, and we headed out. Back at camp, my girlfriend opened her door and noticed what appeared to be screws coming through the ceiling. I was in disbelief. I pulled up the Nucamp installation and instructions and realized the screws through the roof were the least of my worries. The rails themselves were NOWHERE close to where they were supposed to be (2" from sides, 18" from rear hatch cover). This explained the screws coming through and not hitting metal on the framing. AKA, our rack had ZERO roof support. The screws used were not self-tapping ones, but were what came with the Yakima kit. The factory instructions say to use different ones. We found open holes with no screws in the rail. I was absolutely livid at this point.
Some photos: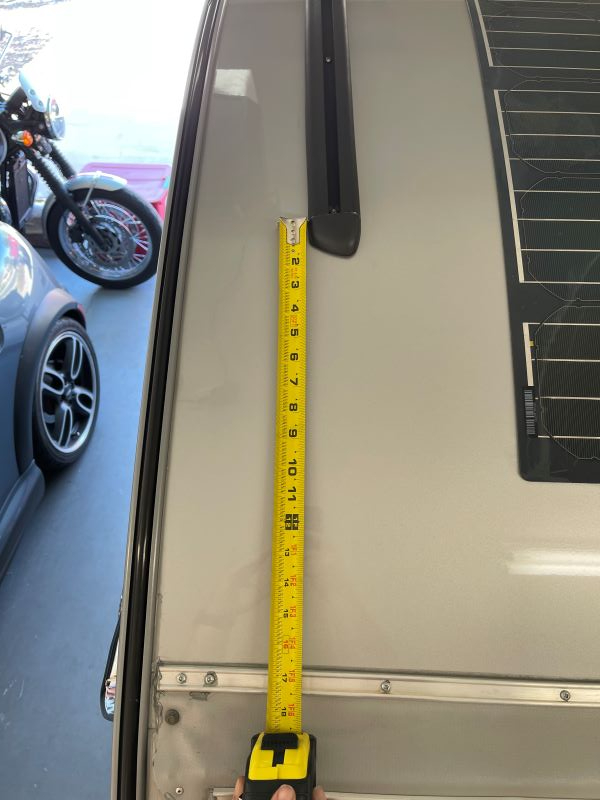 Sadly, the dealer was closed for the next two days and I had to wait to see what to do. I reached out to Nucamp, and sent them photos. They were very helpful. Nucamp told us not use the rack AT ALL, and to get the camper back to the dealer ASAP. The roof was compromised and using the rack could cause it to fail. We were able to contact the dealer two days later and show them the photos. Obviously, something was not done correctly. After a week of back forth between the dealer, myself, and Nucamp, it was decided the camper would need to be sent back to Nucamp for an interior gut and new roof panel install. Estimated wait time: 5-7 months…. I was not happy with this idea and wanted a new camper. We would miss our entire first camping season because of something we did not do. After another series of back-and-forth conversations, the dealer agreed to give us a new camper, and send ours off to be fixed. They would then sell our old one used. We were able to pick up our new one on May 1st.
A word of warning for folks having their dealers install their racks… Ensure they have the Nucamp instructions, and make sure they know what they are doing. Our camper ended up being an end of the day rush job by two techs, who lost their jobs over this mess up. We are happy to have a new camper and still be out camping, but the last 4 weeks have been so stressful…
Welcome home, Canned Ham 2.0!

Happy Camping!
Johnny and Chelsea
Deming, NM
RV: 2021 [email protected] XL Boondock
TV: 2017 GMC Canyon SLT (2.8 Duramax)